Tile 25AZ2
Actueel Hoogtebestand Nederland
Point cloud
The aerial photograph closest to the acquisition date of the AHN iteration was overlaid on the point cloud to produce a colored version for visualisation purposes. Furthermore, for each point cloud a spatial index and textual summary, including elevation histogram, are provided. Please note that the images are not from the same flight, and may be years off. Therefore, small alignment errors and differences occur between them.
Zoom in on the map to see tiled versions (25 tiles of 1×1.25 km). Tiled versions typically fit into memory (RAM) are easier to handle and are especially suitable for parallel processing and Machine Learning.
*The point cloud is in the public domain and the aerial photograph available under CC-BY. However, the colored point cloud is a new product created by GeoTiles.
File checksums (md5) are available for AHN1, AHN2, AHN3 and AHN4.
Raster
Sub-tiles 25AZ2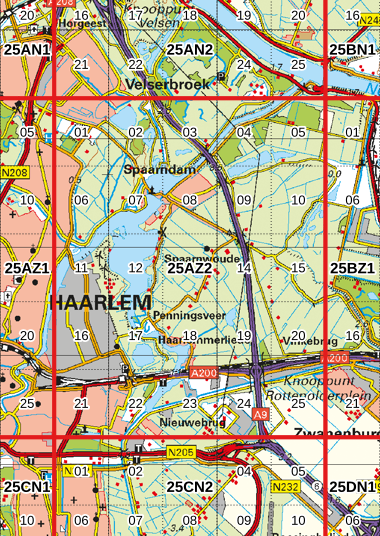 Image adapted from Kadaster TOPraster and OpenTopo.
Actueel Hoogtebestand Nederland
Point cloud
These sub-tiles of 1×1.25 km are clipped from the original point cloud. Goal is to enable distributed processing of the point cloud. Therefore, a 25 m overlap to the neighbouring (sub-)tiles is added. Thanks to the overlap between sub-tiles, the sub-tiles can be processed independently and therefore parallel.
All other data sets on this website are only available in the main tiling schema.
Tile
Version
Point cloud
Spatial index
Info
Residential areas
License
25AZ2_01
AHN1
25AZ2_01.LAZ
1009 kiB
25AZ2_01.LAX
4 kiB
25AZ2_01.txt
11 kiB
Haarlem, Noord, Vondelkwartier, Velserbroek
AHN (stuurgroep AHN, public data) and aerial photograph (Beeldmateriaal, CC-BY) remixed by GeoTiles, CC-BY
AHN2
25AZ2_01.LAZ
83.6 MiB
25AZ2_01.LAX
61 kiB
25AZ2_01.txt
13 kiB
AHN3
25AZ2_01.LAZ
138.1 MiB
25AZ2_01.LAX
99 kiB
25AZ2_01.txt
14 kiB
AHN4
25AZ2_01.LAZ
472.2 MiB
25AZ2_01.LAX
100 kiB
25AZ2_01.txt
16 kiB
25AZ2_02
AHN1
25AZ2_02.LAZ
764 kiB
25AZ2_02.LAX
5 kiB
25AZ2_02.txt
11 kiB
Velserbroek
AHN (stuurgroep AHN, public data) and aerial photograph (Beeldmateriaal, CC-BY) remixed by GeoTiles, CC-BY
AHN2
25AZ2_02.LAZ
74.2 MiB
25AZ2_02.LAX
57 kiB
25AZ2_02.txt
13 kiB
AHN3
25AZ2_02.LAZ
113.7 MiB
25AZ2_02.LAX
86 kiB
25AZ2_02.txt
15 kiB
AHN4
25AZ2_02.LAZ
458.1 MiB
25AZ2_02.LAX
99 kiB
25AZ2_02.txt
16 kiB
25AZ2_03
AHN1
25AZ2_03.LAZ
911 kiB
25AZ2_03.LAX
4 kiB
25AZ2_03.txt
10 kiB
Spaarndam
AHN (stuurgroep AHN, public data) and aerial photograph (Beeldmateriaal, CC-BY) remixed by GeoTiles, CC-BY
AHN2
25AZ2_03.LAZ
94.1 MiB
25AZ2_03.LAX
79 kiB
25AZ2_03.txt
14 kiB
AHN3
25AZ2_03.LAZ
164.2 MiB
25AZ2_03.LAX
97 kiB
25AZ2_03.txt
15 kiB
AHN4
25AZ2_03.LAZ
540.7 MiB
25AZ2_03.LAX
100 kiB
25AZ2_03.txt
21 kiB
25AZ2_04
AHN1
25AZ2_04.LAZ
834 kiB
25AZ2_04.LAX
5 kiB
25AZ2_04.txt
11 kiB
AHN (stuurgroep AHN, public data) and aerial photograph (Beeldmateriaal, CC-BY) remixed by GeoTiles, CC-BY
AHN2
25AZ2_04.LAZ
65.8 MiB
25AZ2_04.LAX
37 kiB
25AZ2_04.txt
20 kiB
AHN3
25AZ2_04.LAZ
187.3 MiB
25AZ2_04.LAX
92 kiB
25AZ2_04.txt
21 kiB
AHN4
25AZ2_04.LAZ
674.5 MiB
25AZ2_04.LAX
96 kiB
25AZ2_04.txt
22 kiB
25AZ2_05
AHN1
25AZ2_05.LAZ
854 kiB
25AZ2_05.LAX
4 kiB
25AZ2_05.txt
8 kiB
AHN (stuurgroep AHN, public data) and aerial photograph (Beeldmateriaal, CC-BY) remixed by GeoTiles, CC-BY
AHN2
25AZ2_05.LAZ
48.6 MiB
25AZ2_05.LAX
39 kiB
25AZ2_05.txt
10 kiB
AHN3
25AZ2_05.LAZ
155.4 MiB
25AZ2_05.LAX
97 kiB
25AZ2_05.txt
13 kiB
AHN4
25AZ2_05.LAZ
512.5 MiB
25AZ2_05.LAX
98 kiB
25AZ2_05.txt
14 kiB
25AZ2_06
AHN1
25AZ2_06.LAZ
947 kiB
25AZ2_06.LAX
3 kiB
25AZ2_06.txt
9 kiB
Haarlem, Noord, Vondelkwartier, Dietsveld, Vogelenbuurt, ...
AHN (stuurgroep AHN, public data) and aerial photograph (Beeldmateriaal, CC-BY) remixed by GeoTiles, CC-BY
AHN2
25AZ2_06.LAZ
73.6 MiB
25AZ2_06.LAX
56 kiB
25AZ2_06.txt
12 kiB
AHN3
25AZ2_06.LAZ
120.5 MiB
25AZ2_06.LAX
96 kiB
25AZ2_06.txt
13 kiB
AHN4
25AZ2_06.LAZ
374.9 MiB
25AZ2_06.LAX
99 kiB
25AZ2_06.txt
14 kiB
25AZ2_07
AHN1
25AZ2_07.LAZ
612 kiB
25AZ2_07.LAX
5 kiB
25AZ2_07.txt
10 kiB
Spaarndam, Waarderpolder, Oost, Haarlem
AHN (stuurgroep AHN, public data) and aerial photograph (Beeldmateriaal, CC-BY) remixed by GeoTiles, CC-BY
AHN2
25AZ2_07.LAZ
50.6 MiB
25AZ2_07.LAX
43 kiB
25AZ2_07.txt
13 kiB
AHN3
25AZ2_07.LAZ
74.6 MiB
25AZ2_07.LAX
33 kiB
25AZ2_07.txt
14 kiB
AHN4
25AZ2_07.LAZ
268.9 MiB
25AZ2_07.LAX
88 kiB
25AZ2_07.txt
15 kiB
25AZ2_08
AHN1
25AZ2_08.LAZ
957 kiB
25AZ2_08.LAX
4 kiB
25AZ2_08.txt
10 kiB
Spaarndam
AHN (stuurgroep AHN, public data) and aerial photograph (Beeldmateriaal, CC-BY) remixed by GeoTiles, CC-BY
AHN2
25AZ2_08.LAZ
75.7 MiB
25AZ2_08.LAX
55 kiB
25AZ2_08.txt
12 kiB
AHN3
25AZ2_08.LAZ
130.7 MiB
25AZ2_08.LAX
91 kiB
25AZ2_08.txt
13 kiB
AHN4
25AZ2_08.LAZ
390.1 MiB
25AZ2_08.LAX
100 kiB
25AZ2_08.txt
14 kiB
25AZ2_09
AHN1
25AZ2_09.LAZ
914 kiB
25AZ2_09.LAX
4 kiB
25AZ2_09.txt
8 kiB
Spaarndam
AHN (stuurgroep AHN, public data) and aerial photograph (Beeldmateriaal, CC-BY) remixed by GeoTiles, CC-BY
AHN2
25AZ2_09.LAZ
45.3 MiB
25AZ2_09.LAX
37 kiB
25AZ2_09.txt
11 kiB
AHN3
25AZ2_09.LAZ
111.4 MiB
25AZ2_09.LAX
95 kiB
25AZ2_09.txt
15 kiB
AHN4
25AZ2_09.LAZ
321.5 MiB
25AZ2_09.LAX
98 kiB
25AZ2_09.txt
19 kiB
25AZ2_10
AHN1
25AZ2_10.LAZ
898 kiB
25AZ2_10.LAX
4 kiB
25AZ2_10.txt
6 kiB
AHN (stuurgroep AHN, public data) and aerial photograph (Beeldmateriaal, CC-BY) remixed by GeoTiles, CC-BY
AHN2
25AZ2_10.LAZ
39.5 MiB
25AZ2_10.LAX
31 kiB
25AZ2_10.txt
7 kiB
AHN3
25AZ2_10.LAZ
104.7 MiB
25AZ2_10.LAX
98 kiB
25AZ2_10.txt
10 kiB
AHN4
25AZ2_10.LAZ
326.4 MiB
25AZ2_10.LAX
100 kiB
25AZ2_10.txt
13 kiB
25AZ2_11
AHN1
25AZ2_11.LAZ
788 kiB
25AZ2_11.LAX
5 kiB
25AZ2_11.txt
11 kiB
Haarlem, Oost, Waarderpolder, Noord, Indische Buurt, ...
AHN (stuurgroep AHN, public data) and aerial photograph (Beeldmateriaal, CC-BY) remixed by GeoTiles, CC-BY
AHN2
25AZ2_11.LAZ
65.1 MiB
25AZ2_11.LAX
55 kiB
25AZ2_11.txt
20 kiB
AHN3
25AZ2_11.LAZ
104.6 MiB
25AZ2_11.LAX
84 kiB
25AZ2_11.txt
19 kiB
AHN4
25AZ2_11.LAZ
364.9 MiB
25AZ2_11.LAX
95 kiB
25AZ2_11.txt
20 kiB
25AZ2_12
AHN1
25AZ2_12.LAZ
468 kiB
25AZ2_12.LAX
5 kiB
25AZ2_12.txt
10 kiB
Waarderpolder, Oost, Haarlem, De Laars
AHN (stuurgroep AHN, public data) and aerial photograph (Beeldmateriaal, CC-BY) remixed by GeoTiles, CC-BY
AHN2
25AZ2_12.LAZ
41.7 MiB
25AZ2_12.LAX
42 kiB
25AZ2_12.txt
13 kiB
AHN3
25AZ2_12.LAZ
59.4 MiB
25AZ2_12.LAX
21 kiB
25AZ2_12.txt
14 kiB
AHN4
25AZ2_12.LAZ
249.1 MiB
25AZ2_12.LAX
85 kiB
25AZ2_12.txt
15 kiB
25AZ2_13
AHN1
25AZ2_13.LAZ
940 kiB
25AZ2_13.LAX
4 kiB
25AZ2_13.txt
9 kiB
Spaarnwoude
AHN (stuurgroep AHN, public data) and aerial photograph (Beeldmateriaal, CC-BY) remixed by GeoTiles, CC-BY
AHN2
25AZ2_13.LAZ
64.1 MiB
25AZ2_13.LAX
53 kiB
25AZ2_13.txt
11 kiB
AHN3
25AZ2_13.LAZ
119.8 MiB
25AZ2_13.LAX
98 kiB
25AZ2_13.txt
12 kiB
AHN4
25AZ2_13.LAZ
324.7 MiB
25AZ2_13.LAX
100 kiB
25AZ2_13.txt
13 kiB
25AZ2_14
AHN1
25AZ2_14.LAZ
915 kiB
25AZ2_14.LAX
4 kiB
25AZ2_14.txt
9 kiB
Spaarnwoude, Vinkebrug
AHN (stuurgroep AHN, public data) and aerial photograph (Beeldmateriaal, CC-BY) remixed by GeoTiles, CC-BY
AHN2
25AZ2_14.LAZ
45.1 MiB
25AZ2_14.LAX
36 kiB
25AZ2_14.txt
12 kiB
AHN3
25AZ2_14.LAZ
121.4 MiB
25AZ2_14.LAX
99 kiB
25AZ2_14.txt
15 kiB
AHN4
25AZ2_14.LAZ
355.6 MiB
25AZ2_14.LAX
100 kiB
25AZ2_14.txt
20 kiB
25AZ2_15
AHN1
25AZ2_15.LAZ
886 kiB
25AZ2_15.LAX
4 kiB
25AZ2_15.txt
9 kiB
Vinkebrug
AHN (stuurgroep AHN, public data) and aerial photograph (Beeldmateriaal, CC-BY) remixed by GeoTiles, CC-BY
AHN2
25AZ2_15.LAZ
44.0 MiB
25AZ2_15.LAX
35 kiB
25AZ2_15.txt
10 kiB
AHN3
25AZ2_15.LAZ
119.4 MiB
25AZ2_15.LAX
96 kiB
25AZ2_15.txt
12 kiB
AHN4
25AZ2_15.LAZ
394.7 MiB
25AZ2_15.LAX
100 kiB
25AZ2_15.txt
14 kiB
25AZ2_16
AHN1
25AZ2_16.LAZ
935 kiB
25AZ2_16.LAX
4 kiB
25AZ2_16.txt
11 kiB
Oost, Waarderpolder, Haarlem
AHN (stuurgroep AHN, public data) and aerial photograph (Beeldmateriaal, CC-BY) remixed by GeoTiles, CC-BY
AHN2
25AZ2_16.LAZ
79.1 MiB
25AZ2_16.LAX
64 kiB
25AZ2_16.txt
16 kiB
AHN3
25AZ2_16.LAZ
124.1 MiB
25AZ2_16.LAX
97 kiB
25AZ2_16.txt
15 kiB
AHN4
25AZ2_16.LAZ
389.9 MiB
25AZ2_16.LAX
100 kiB
25AZ2_16.txt
16 kiB
25AZ2_17
AHN1
25AZ2_17.LAZ
748 kiB
25AZ2_17.LAX
5 kiB
25AZ2_17.txt
11 kiB
Oost, Haarlem, Waarderpolder, Haarlemmerliede, Penningsveer
AHN (stuurgroep AHN, public data) and aerial photograph (Beeldmateriaal, CC-BY) remixed by GeoTiles, CC-BY
AHN2
25AZ2_17.LAZ
68.8 MiB
25AZ2_17.LAX
61 kiB
25AZ2_17.txt
30 kiB
AHN3
25AZ2_17.LAZ
107.2 MiB
25AZ2_17.LAX
88 kiB
25AZ2_17.txt
38 kiB
AHN4
25AZ2_17.LAZ
368.9 MiB
25AZ2_17.LAX
97 kiB
25AZ2_17.txt
32 kiB
25AZ2_18
AHN1
25AZ2_18.LAZ
880 kiB
25AZ2_18.LAX
4 kiB
25AZ2_18.txt
9 kiB
Haarlemmerliede, Spaarnwoude, Waarderpolder, Haarlem, Oost
AHN (stuurgroep AHN, public data) and aerial photograph (Beeldmateriaal, CC-BY) remixed by GeoTiles, CC-BY
AHN2
25AZ2_18.LAZ
65.3 MiB
25AZ2_18.LAX
52 kiB
25AZ2_18.txt
12 kiB
AHN3
25AZ2_18.LAZ
118.7 MiB
25AZ2_18.LAX
95 kiB
25AZ2_18.txt
13 kiB
AHN4
25AZ2_18.LAZ
349.6 MiB
25AZ2_18.LAX
100 kiB
25AZ2_18.txt
15 kiB
25AZ2_19
AHN1
25AZ2_19.LAZ
903 kiB
25AZ2_19.LAX
4 kiB
25AZ2_19.txt
9 kiB
Vinkebrug
AHN (stuurgroep AHN, public data) and aerial photograph (Beeldmateriaal, CC-BY) remixed by GeoTiles, CC-BY
AHN2
25AZ2_19.LAZ
46.4 MiB
25AZ2_19.LAX
35 kiB
25AZ2_19.txt
12 kiB
AHN3
25AZ2_19.LAZ
129.4 MiB
25AZ2_19.LAX
97 kiB
25AZ2_19.txt
14 kiB
AHN4
25AZ2_19.LAZ
385.7 MiB
25AZ2_19.LAX
99 kiB
25AZ2_19.txt
19 kiB
25AZ2_20
AHN1
25AZ2_20.LAZ
853 kiB
25AZ2_20.LAX
4 kiB
25AZ2_20.txt
9 kiB
Vinkebrug, Zwanenburg
AHN (stuurgroep AHN, public data) and aerial photograph (Beeldmateriaal, CC-BY) remixed by GeoTiles, CC-BY
AHN2
25AZ2_20.LAZ
44.5 MiB
25AZ2_20.LAX
35 kiB
25AZ2_20.txt
10 kiB
AHN3
25AZ2_20.LAZ
115.0 MiB
25AZ2_20.LAX
99 kiB
25AZ2_20.txt
13 kiB
AHN4
25AZ2_20.LAZ
338.2 MiB
25AZ2_20.LAX
100 kiB
25AZ2_20.txt
14 kiB
25AZ2_21
AHN1
25AZ2_21.LAZ
1.0 MiB
25AZ2_21.LAX
4 kiB
25AZ2_21.txt
12 kiB
Haarlem, Oost, Parkwijk, Amsterdamse Buurt, Waarderpolder, ...
AHN (stuurgroep AHN, public data) and aerial photograph (Beeldmateriaal, CC-BY) remixed by GeoTiles, CC-BY
AHN2
25AZ2_21.LAZ
100.0 MiB
25AZ2_21.LAX
66 kiB
25AZ2_21.txt
17 kiB
AHN3
25AZ2_21.LAZ
143.1 MiB
25AZ2_21.LAX
100 kiB
25AZ2_21.txt
17 kiB
AHN4
25AZ2_21.LAZ
456.3 MiB
25AZ2_21.LAX
99 kiB
25AZ2_21.txt
19 kiB
25AZ2_22
AHN1
25AZ2_22.LAZ
987 kiB
25AZ2_22.LAX
4 kiB
25AZ2_22.txt
12 kiB
Haarlem, Oost, Zuiderpolder, Nieuwebrug, Waarderpolder, ...
AHN (stuurgroep AHN, public data) and aerial photograph (Beeldmateriaal, CC-BY) remixed by GeoTiles, CC-BY
AHN2
25AZ2_22.LAZ
81.5 MiB
25AZ2_22.LAX
65 kiB
25AZ2_22.txt
17 kiB
AHN3
25AZ2_22.LAZ
130.7 MiB
25AZ2_22.LAX
95 kiB
25AZ2_22.txt
17 kiB
AHN4
25AZ2_22.LAZ
462.7 MiB
25AZ2_22.LAX
99 kiB
25AZ2_22.txt
19 kiB
25AZ2_23
AHN1
25AZ2_23.LAZ
949 kiB
25AZ2_23.LAX
4 kiB
25AZ2_23.txt
10 kiB
Vijfhuizen, Halfweg, Haarlemmerliede
AHN (stuurgroep AHN, public data) and aerial photograph (Beeldmateriaal, CC-BY) remixed by GeoTiles, CC-BY
AHN2
25AZ2_23.LAZ
70.4 MiB
25AZ2_23.LAX
54 kiB
25AZ2_23.txt
12 kiB
AHN3
25AZ2_23.LAZ
134.4 MiB
25AZ2_23.LAX
97 kiB
25AZ2_23.txt
14 kiB
AHN4
25AZ2_23.LAZ
418.5 MiB
25AZ2_23.LAX
99 kiB
25AZ2_23.txt
18 kiB
25AZ2_24
AHN1
25AZ2_24.LAZ
940 kiB
25AZ2_24.LAX
4 kiB
25AZ2_24.txt
10 kiB
Vijfhuizen, Halfweg
AHN (stuurgroep AHN, public data) and aerial photograph (Beeldmateriaal, CC-BY) remixed by GeoTiles, CC-BY
AHN2
25AZ2_24.LAZ
53.0 MiB
25AZ2_24.LAX
36 kiB
25AZ2_24.txt
14 kiB
AHN3
25AZ2_24.LAZ
138.3 MiB
25AZ2_24.LAX
99 kiB
25AZ2_24.txt
16 kiB
AHN4
25AZ2_24.LAZ
411.0 MiB
25AZ2_24.LAX
100 kiB
25AZ2_24.txt
21 kiB
25AZ2_25
AHN1
25AZ2_25.LAZ
931 kiB
25AZ2_25.LAX
4 kiB
25AZ2_25.txt
8 kiB
Zwanenburg
AHN (stuurgroep AHN, public data) and aerial photograph (Beeldmateriaal, CC-BY) remixed by GeoTiles, CC-BY
AHN2
25AZ2_25.LAZ
45.1 MiB
25AZ2_25.LAX
35 kiB
25AZ2_25.txt
9 kiB
AHN3
25AZ2_25.LAZ
117.8 MiB
25AZ2_25.LAX
97 kiB
25AZ2_25.txt
12 kiB
AHN4
25AZ2_25.LAZ
365.2 MiB
25AZ2_25.LAX
100 kiB
25AZ2_25.txt
13 kiB